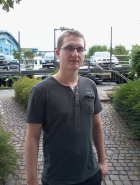 Hello,
my full name is Patrick Matthäi, alias "the-me", born on the 05.01.1988.
I am IT specialist (system integrator) and IT security leader living in germany and working for the LEONEX Internet GmbH since 2007.
In 2005 I discovered GNU/Linux Debian for my own desktop, after some years of playing with misserable SuSE updates.. 2006 I started to contribute to the Debian project by maintaining a few small packages and now I am since 2009 an offical GNU/Linux Debian Developer.
You can find my profile on Xing and also meet me on various IRC networks, like Freenode, OFTC, EfNet, QuakeNet (nickname: the-me).